20 Most Promising GRC Solution Providers - 2019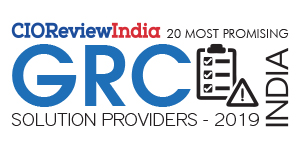 Organizations are looking to embed Governance, Risk and Compliance into the very core of their business permitting key personnel to make more risk-aware decisions. With the adoption of cloud on the rise, a broad range of organizations are turning towards cloud-based GRC applications that offer the possibility of better risk management and the mitigation of business risk. With adoption of GRC solutions, businesses are now able to avail a framework that eliminates duplication, and increases the efficiency and productivity along with being economical. However, for the solution to be effective, it must deliver a unified integrated management strategy across the entire organization, be in tandem with the business goals and look into the every-day business processes. All this requires working with the right vendor that understands every business's unique requirements. Finding the right partner to work with can be a tedious task and can prove to be unforgiving if the wrong solution is implemented. The probability of finding the right vendor further decreases with the influx of vendors permeating into the market.
Perfectly understanding the dilemma faced by almost every organization out there in the market, CIOReviewIndia has compiled a list of "20 Most Promising GRC Solution Providers", which is essentially an amalgamation of vendors that, wield the industry rich knowledge and the right amount of expertise with a proven track record. A distinguished panel consisting of CEOs, CIOs, industry analysts and CIOReviewIndia editorial team has scrutinized an inventory of vendors providing similar solutions and has decided on the vendors who in our opinion can assist businesses in achieving their business goals.
We present to you CIOTechOutlook 20 Most Promising GRC Solution Providers - 2019.
Top GRC Solution Providers
| Company Name | Company Description |
| --- | --- |
| Xpandion | Provides solutions across multi-platform and multiple systems for GRC, IAM, Licensing and Security |
| | |
| --- | --- |
| Affinity Technology | Provides software asset management services for GRC |
| Compfie | Provides no-code SaaS compliance tracking platform |
| ControlCase | Provides GRC Consulting services |
| Fixnix | Provides SaaS based GRC solutions |
| GRC Stack | Provides solutions to aid in governance management, risk mitigation, audits, information security and regulatory compliance |
| Infosys | Provides corporate GRC solutions |
| IPIX Technologies | Provides solutions for GRC implementation strategies |
| Lasergrc | Provides web based software solutions for Internal Audit, Risk Management and Legal Compliance Management |
| Lexsys | Provides enterprise risk management and compliance solutions |
| LogicManager | Provides software based GRC solutions |
| MetricStream | Provides a portfolio of GRC solutions |
| Mind Merchants | Provides solutions for GRC Services |
| NCSSoft | Provides compliance solutions that empowers banks financial institutions |
| NetSuite | Provides solutions to empower enterprises' GRC programs |
| Protiviti | Provides GRC Technology Advisory solutions |
| PwC network | Provides GRC Services |
| Ricago | Provides GRC platform to cater internal compliance requirements |
| Software AG | Provides software based GRC solutions |
| Wolters Kluwer | Provides GRC solutions for banking industry |