20 Most Promising Governance, Risk and Compliance Companies - 2014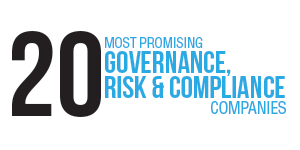 Global compliance has become imperative for companies across the world especially in sectors such as Banking, Financial services and Insurance (BFSI), Energy and Utilities, Biotech and Pharmaceuticals, Information Technology (IT) and Telecom. Enterprise governance, risk management and compliance (eGRC) is being considered critical to business management. Today every corporate action has to pass the hurdles of compliance requirements which are growing in number with the evolution of business processes and the increasing vulnerabilities brought by surging expectations of transparency. Moreover, once these requirements and reporting are established, they tend to stay in place for a very long time. The good news is that many companies have identified this market opportunity and the solutions and services now available to CFOs, CIOs and Chief Compliance Officers are unprecedented. Also, in light of the growth rates and the size of the market, many technology, consulting and outsourcing companies are seeking to explore and gain access to this market. Under these circumstances, it is essential to identify the key vendors in the eGRC market ecosystem by understanding their business models, pricing models and their respective customer bases. With exponentially increasing number of compliance solution providers in the market, it is a tough task to zero in on one. To help organizations and entrepreneurs in the selection of such solution providers, CIOReview magazine brings to you the '20 Most Promising Governance, Risk and Compliance Companies'. These organizations are helping small and large enterprises in meeting the compliance requirements to ensure their business continuity. A distinguished panel comprising of CEOs, CIOs and analysts including CIOReview editorial board analyzed several companies to finalize the list.
We present to you CIOTechOutlook 20 Most Promising Governance, Risk and Compliance Companies - 2014.
| | |
| --- | --- |
| ADP India Pvt. Ltd | A provider of Compliance solutions (ADP Smart Compliance) for payroll, HR, emplyoee related functions and financial system |
| Array Networks Inc | A provider of Application Delivery Controllers, SSL Acceleration, Secure Access Gateways and products and solutions designed to both enable and maintain compliance across a broad range of... |
| Atlas Systems Pvt Ltd | A provider of solutions in the areas of Technology, Procurement, GRC and compliance solutions |
| Beyond Security India | A provider of vulnerability scanning, vulnerability management and security testing |
| ControlCase LLC | A provider of CaaS in IT-GRC (Governance, Risk Management and Compliance) |
| DataTracks Services Limited | A provider of XBRL tagging services for filing with SEBI or the Ministry of Corporate Affairs in India |
| DQS Certification India Pvt Ltd | A provider of CMMI Services, ISO Certifications, Compliance (HIPAA, SSAE16, SAS70) |
| eGestalt Technologies Pvt. Ltd | A provider of Cloud-based software-as-a-service (SaaS) solutions for IT security and, Governance, Risk, and Compliance Management (GRC). |
| Farsight IT Solutions Pvt. Ltd. | A provider of technology based HR & Payroll solutions provider for HR, Admin & Finance professionals across India |
| FSL Software Technologies | A provider of management consultation, business process reviews, financial services, capital market, mutual fund distribution services |
| ILANTUS Technologies Pvt. Ltd | A provider of IAM - identity management, access management, access governance and Compliance solutions |
| INS Zoom Technology & Services( India) Pvt. Ltd | A provider of Immigration Case Management, Immigration Compliance, E-Verify, I-9 Compliance, Immigration Forms, E-Marketing, E-Filing, Immigration Software solutions |
| Lexplosion Solutions Pvt Ltd | A provider of platform-driven legal governance, risk and compliance management system |
| Modulo Security Solutions | A provider of GRC solutions for Technology Risk and Compliance Management, Enterprise Risk Management, Vendor Risk Management and Business Continuity Management |
| NICE Systems | A provider of Compliance and Risk solutions for consumer protection using Advanced analytics |
| Paysquare Consultancy Ltd. | A provider of Payroll Outsourcing, Statutory Compliances, Payroll Services, Web based employee self service portal, Expense reimbursement services |
| ProMinds Global Solutions Pvt. Ltd | A provider of CMMI, IT Security, ITGRC, Quality, Testing and Transformation. |
| Quadwave Consulting Pvt Ltd | A provider of software consulting and solutions, Compliance solutions, eGovernance solutions and Risk Management solutions |
| Sand Legal Services | A provider of compliance management solutions such as compliance partnering, software supported compliance programs, audits, training, advise on compliance management and other services |
| Verint Systems India Pvt. Ltd. | A provider of customer engagement optimization, security intelligence, and fraud, risk and compliance management solutions |